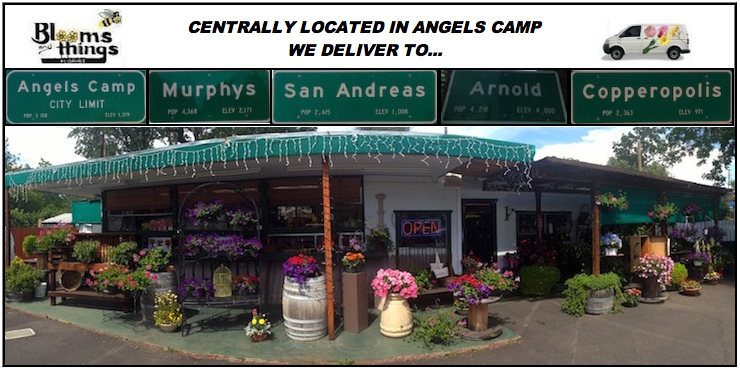 Blooms & Things Florist Hours
Business Hours
Monday: 9:00 AM - 5:00 PM
Tuesday: 9:00 AM - 5:00 PM
Wednesday: 9:00 AM - 5:00 PM
Thursday: 9:00 AM - 5:00 PM
Friday: 9:00 AM - 5:00 PM
Saturday: 9:00 AM - 2:00 PM
Sunday: Closed
Volume of Sales Recognition by FTD Inc. for sending to other local florists...
Out of 50,000 florists worldwide, FTD currently ranks Blooms & Things in the TOP 250 FTD florists worldwide. What this means is that Blooms & Things in the small county of Calaveras County is currently recognized in the top 1 percent of worldwide florists for volume sent FTD. To put that into further perspective, our store resides in a town of only 3,150 population - yet our customer data base exceeds that of 25,000 people.
Founded in 1985, we strive to have a superior flower delivery system whereas customers who place orders thru our website are notified that delivery was made; we make every effort to inform customers (by email) in a timely manner that the flowers arrived at their destination.