Christmas Flowers - In The Spirit
The holidays are a time of family, friends, and happiness, and nothing embodies all of those symbols quite like a great bouquet of specially arranged Christmas flowers.
(Vicki hand-picks the best Poinsettias for our customers)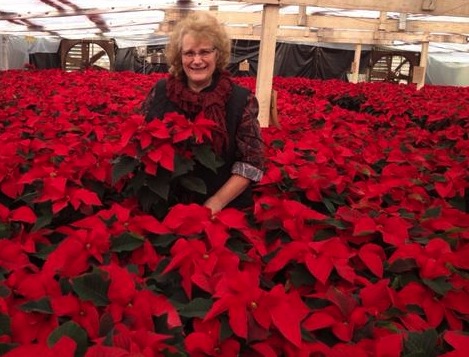 Most people hear Christmas and think of snowmen and Santa Claus, holiday lights and eggnog. But whether you're planning on spending this Christmas alone or with dozens of friends and family members, a few well-placed bouquets or a couple of nice, festive centerpieces can really compliment your overall festivities and boost the Christmas spirit even more. They'll also do it without being too garish or overpowering, and their subtle effects will have a great impact on everyone's mood whether they know it or not.
Ask anyone what Christmas colors are considered to be, and they'll likely name off a handful of colors nearly everyone associates with the season – usually green, red, and white. These colors are so intrinsically linked to the holidays that just seeing them normally makes most people associate them with the season. That's why most good arrangements of Christmas flowers will usually include those colors in abundance. Whether it's red roses, white lilies, or holiday greens, these shades are the go-to choices when you're trying to find holiday flower arrangements that stand out.
And while color is the foundation of any good arrangement of Christmas flowers, there are plenty of other festive additions that can make a bouquet even more special. Holiday traditions like candy canes, ribbons, or glass balls are often incorporated into the best arrangements. Even gold-hued pinecones and that famous plant mistletoe may make an appearance. And if you're focusing on the religious aspects of the holiday, there are certain religious-themed items that can be utilized as well. In short, there's literally something for everyone, and it isn't hard to transform your home into a Christmas wonderland with the right flowers.
You'll be able to choose from Christmas flowers arranged in baskets, those placed in elegant glass vases, or even centerpiece arrangements. Those centerpieces may even incorporate candles and domes to help your table come to life, along with the various additional elements mentioned above. Whether you're trying to ensure nobody in your family plays the part of "Scrooge" this year or are just looking for a good way to help your family room seem a bit more festive and Christmas like, you simply can't go wrong with the addition of a few holiday themed flower arrangements.