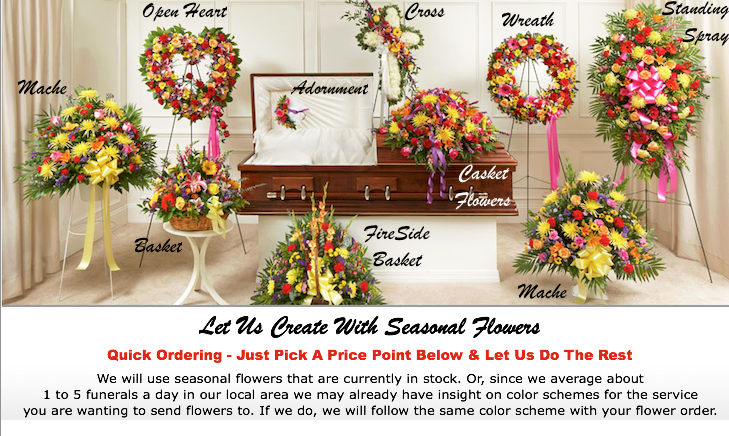 Standing Sprays...
Wreaths - Hearts - Crosses
Casket Sprays...Start at $75 with the average being $150
Sympathy Flowers by Blooms and Things Florist
Flowers are a traditional expression of sympathy. They also bring a feeling of life and comfort to memorial gatherings. Sending flowers for funeral services expresses your condolences and provides a tangible tribute to the loved one lost. Choose from our large selection of arrangements, wreaths, sprays, and more.
Nobody wants to have to send sympathy flowers. While birthday or anniversary flowers are used during happy times, these flowers are often sent during periods of intense sorrow and loss. But while it may seem like flowers are a small comfort in the face of loss, the truth is that even such a small gesture can help serve as a celebration of life, a testament to love, and an offering of deepest condolences. It won't ease the pain that family members are likely feeling, but sending these flowers can do so much more for them and let them know that you truly care.
Sympathy flowers say a lot. They're one of the most important examples of nature's beauty and of the wonders that this world holds, and therefore are excellent testaments to life and a way to celebrate and remember someone who has left us. They can offer a bit of hope and beauty in a dark time, and can help remind those who are grieving that the world still has so much to offer them, even after their loss. And, simply put, they let the bereaved know that you care and that you have fond memories of their loved one, something that you may not be able to express in words.
That ability to speak for you is an important aspect of sympathy flowers, and one reason why they're so important. Whether you're planning on attending memorial services or can't make it due to time and location restraints, sending flowers is a good way to take care of several different things at once. And since there are plenty of choices, you'll be able to take a look at the options available and choose the one that you feel speaks the best for you and helps convey your feelings and your sympathies the best.
Colors and design matter in any flower arrangement, but they're even more vital when it comes to sympathy flowers. Colors shouldn't be too stark and garish or too dull and muted, or they'll have the wrong effect. That's why trusting a professionally designed and assembled flower arrangement is the best choice that you can make. Take the time to look through the different options, and you'll find the perfect one for your condolences. Flowers won't replace a loved one, but they can do so much more in a time of grief. They're important symbols of life, love, and togetherness and are important parts of any memorial service.